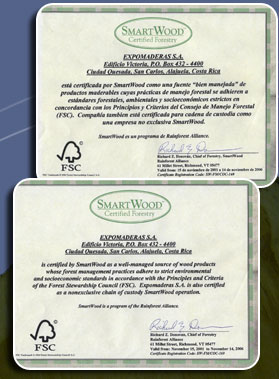 Certification is the process of independent verification of forestal manipulation at a required level, according to specific standards. Certification has been developed greatly as an outcome to an international agreement. The foundation of this process is responsible forestal manipulation. Success of certification depends on the consumers, investors and other people involved in providing an incentive to forestal managers in order to demand a supportive forestal manipulation by preferring the obtaining of materials or the investment in well-managed forests and plantations.
FSC certification is a voluntary process that is realised by an independent third party that issues a written declaration or a certificate that guarantees that the forestal manipulation taking place in a Management Unit is done according to rules or standards that contemplate economic, ecologic and social factors.
There are two primary goals for this certification system:
To improve forest and worldwide plantations management.
To ensure market access to products coming from certified forests and plantation sites.